Call our joint NHS 24/7 helpline anytime on 0121 262 3555 to talk to a professional on the phone.
If someone's mental or emotional health deteriorates quickly, they may be experiencing a mental health crisis or mental health emergency. In these situations, it's important to get help as soon as possible. Try to stay calm and ask someone for help if you need it.
Unsure if you should call? Call.
Other ways to reach support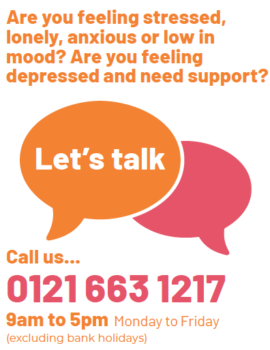 9:00-17:00 Monday to Friday you can access free therapy online via our LiveChat in the bottom-right-corner of this webpage. This will connect you in real-time to a mental health professional.
9:00-17:00 Monday to Friday you can call us directly on 0121 663 1217 to speak to a therapist on the phone.
Are you 11-25 years old?
The Forward Thinking Birmingham Crisis team operates 24/7 to provide urgent mental health support specifically for young adults.
Call on 0300 300 0099 any time.
Request for mental health support
Please complete our online form to request support.
When we receive your information, a member from our team will be in touch to arrange a session.
Step 1
Request therapy and submit details to Living Well.

Step 2

Request is reviewed by our team and pre-therapy interview arranged.
Step 3

Appropriate therapist is contacted and an appointment is arranged.

Step 4

Appointment is confirmed and therapy takes place.